Crockpot Salsa Verde Chicken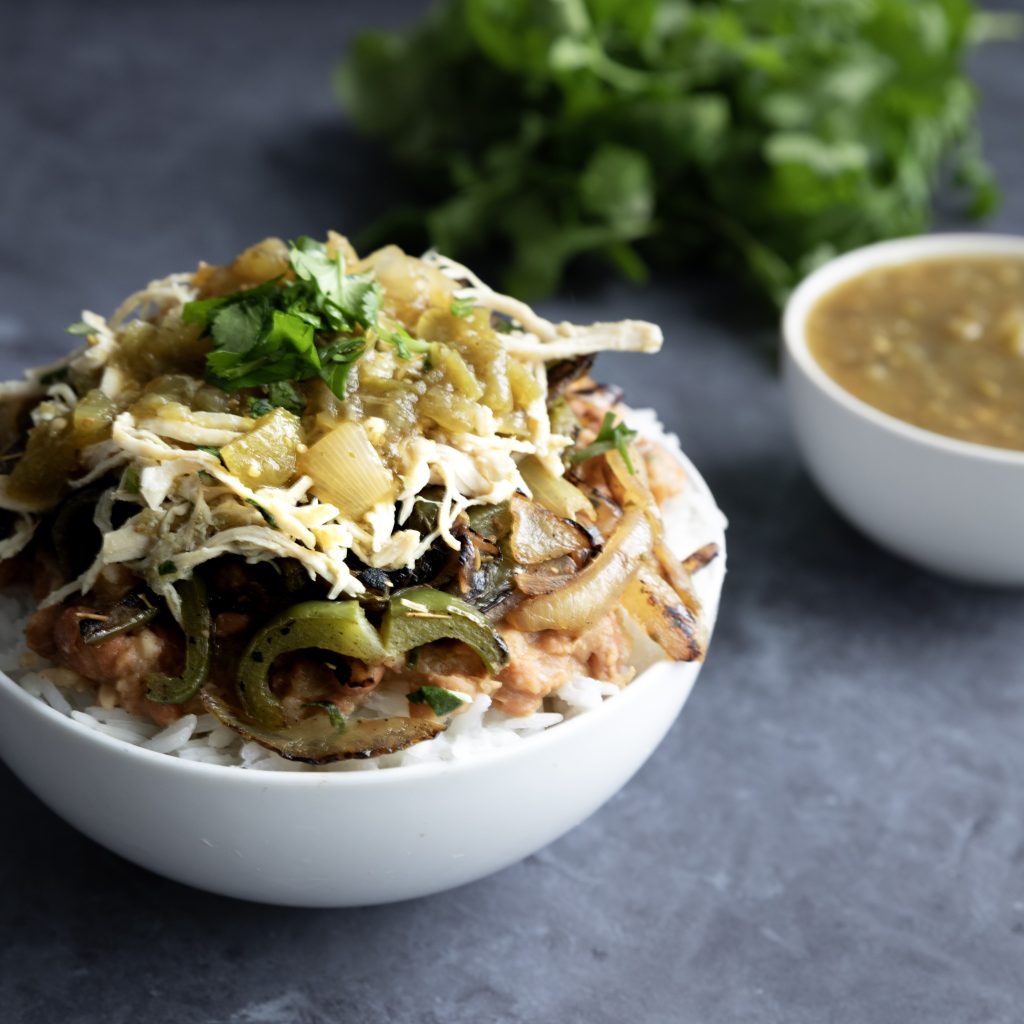 This delicious chicken dish only has eight ingredients in it and prep takes five minutes. Dump all the ingredients into a crock pot and let it go for four to five hours. Once the hours have passed, you'll had delicious shredded and saucy chicken to eat!
Active Prep Time: 10 minutes
Makes 6 servings
Ingredients
3 lb chicken thighs or breasts
3 chicken bouillon cubes
¾ tsp ground cumin
Juice from 2 limes
5 cloves garlic, minced or pressed
1/3 cup fresh cilantro (measured prior to chopping), chopped finely
18 oz tomatillo salsa (salsa verde)
1 ½ cups brown rice
Fajita Veggies
¼ cup olive oil
2 large green peppers, sliced
1 large red onion, thinly sliced
½ tsp dried oregano
½ tsp salt
Directions
Verde Chicken:
Place chicken thighs in the bottom of the slow cooker.
Add all other ingredients on top.
Cook on high for 4 hours (or medium for 6, low for 8)
30 minutes prior to serving, start cooking brown rice.
Break apart chicken and serve with rice.
Fajita Veggies:
In a large skillet, heat the oil over medium-high heat until shimmering. Add the peppers, onions, oregano, and salt.
Heat until slightly softened but still tender-crisp, about 7 minutes. Remove from heat and serve.
Nutrition
1/6 of recipe (8 oz chicken, ½ cup rice, ½ cup veggies), 460 calories, 22g carbohydrate, 22g fat, 41g protein, 3g fiber
Notes
Serving options: whole grain tortillas, rice, cauliflower rice
Lettuce leaves could be romaine, iceberg, green leaf, or butter and are a great low carb option.
If noodles are chosen as the serving option, in the store look for uncooked rice noodles. You may find them in packages labeled "Stir-Fry Rice Noodles".
To cut sodium in this recipe, use low-sodium soy sauce
To make the peanut sauce spicy try adding some red pepper flakes, sriracha, or diced jalapenos
Megan Lautz, MS, RD, CSCS, TSAC-F
Megan is a Registered Dietitian and coach who specializes in firefighter nutrition. Megan's mission is to help firefighters perform better, recover faster, and enjoy long healthy retirements. Megan is the owner of RescueRD LLC, which provides nutrition seminars and coaching for tactical athletes across the country. Check out @Rescue.RD on Facebook and Instagram.