Crockpot Sloppy Joes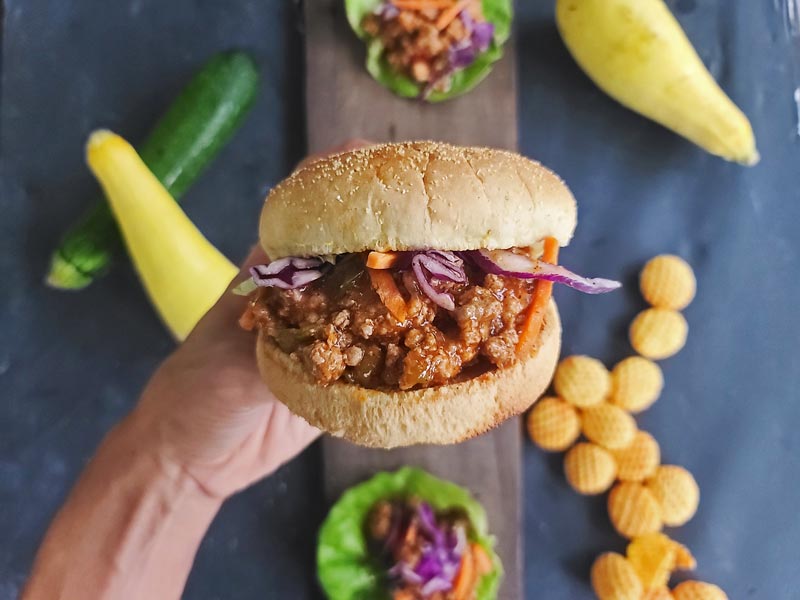 Have a few people on your shift that avoid vegetables like the plague? These sloppy joes hide at least ⅓ cup vegetables per serving. A bagged salad mix is usually the easiest side option but consider fresh corn on the cobb or green beans in the summer months.
This recipe can be cooked stovetop or in a slow cooker. Larger shifts may require two slow cookers to fit everything. If you have time, try the homemade sloppy joe sauce. If not, the store bought version is fine. Note that both the store bought, and the homemade version of the sauce can be high in sugar. The goal of this recipe is to make the classic sloppy joe a bit lower in fat and sneak some extra veggies (fiber) in.
Consider buying the bananas the shift before to allow them to ripen.
Active Prep Time: 30 minutes
Makes 6 servings
Ingredients
3 lbs lean ground turkey 
1 medium onion, grated
¾ cup carrot, grated
2 small zucchinis, grated
2 small yellow squash, grated
2 cans sloppy joe sauce
1 tbsp chili powder
6, 12 whole grain buns
6 slices cheddar cheese
Directions
Turn crockpot to high and set aside.
In a large, non stick skillet, brown ground turkey over medium high heat. While turkey is browning, grate onion, carrot, zucchini and yellow squash using a food processor, or by hand with a large box grater.
Once turkey is browned, drain fat and liquid well. Place into crockpot and sprinkle with chili powder.
Replace non stick skillet to heat. Place grated vegetables into hot pan and sprinkle with pepper. Sautee until the water from the vegetables has evaporated and vegetables are tender (about 7 minutes).
Pour cooked vegetables over meat in the crockpot.
Pour sloppy joe sauce over vegetables and turkey in the crockpot. Stir to coat everything evenly.
Cover and cook 3-4 hours, stirring occasionally. Serve over slightly toasted buns or lettuce wraps.
Nutrition
1 sandwich, 517 calories, 44g carbohydrate, 17g fat, 49g protein, 7g fiber
Megan Lautz, MS, RD, CSCS, TSAC-F
Megan is a Registered Dietitian and coach who specializes in firefighter nutrition. Megan's mission is to help firefighters perform better, recover faster, and enjoy long healthy retirements. Megan is the owner of RescueRD LLC, which provides nutrition seminars and coaching for tactical athletes across the country. Check out @Rescue.RD on Facebook and Instagram.