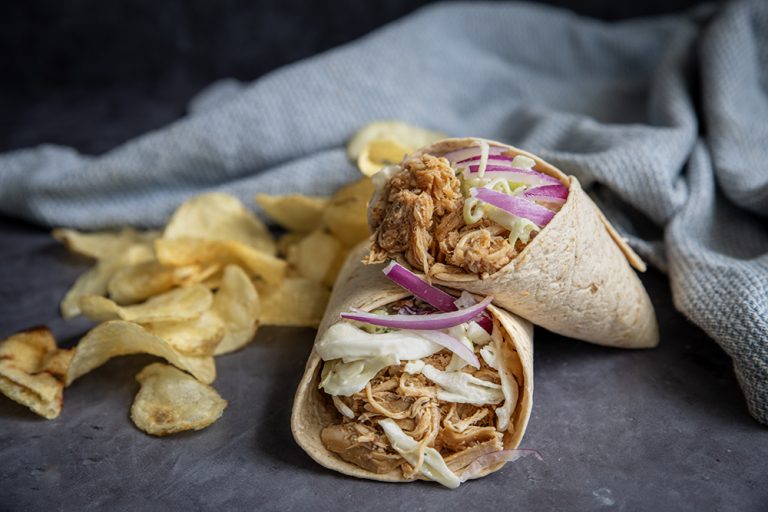 Craving a BBQ sandwich but need something more portable? Pack this wrap next shift! The coleslaw veggies come pre-shredded and add a satisfying crunch to the wrap.
Active Prep Time: 20 minutes
Makes 6 wraps.
24 oz leftover Crockpot BBQ Chicken

8 tablespoons light ranch

2 medium red onion, sliced

1 ½ cup shredded coleslaw veggies

6 whole grain wraps
Combine chicken and dressing in a bowl until well mixed. 

Evenly spread chicken out over the wraps.

Each wrap will contain 4 oz chicken, ¼ cup sliced red onion, and ½ cup shredded coleslaw veggies. 

Wrap in foil and refrigerate for up to one week.
400 calories, 45 g protein, 32 g carbohydrate, 12 g fat, 9 g fiber
SkinnyPop or Smartpop popcorn

Lays Poppables

Popcorners

Apple slices

Grapes
Megan Lautz, MS, RD, CSCS, TSAC-F
Megan is a Registered Dietitian and coach who specializes in firefighter nutrition. Megan's mission is to help firefighters perform better, recover faster, and enjoy long healthy retirements. Megan is the owner of RescueRD LLC, which provides nutrition seminars and coaching for tactical athletes across the country. Check out @Rescue.RD on Facebook and Instagram.