Crockpot Chicken Cacciatore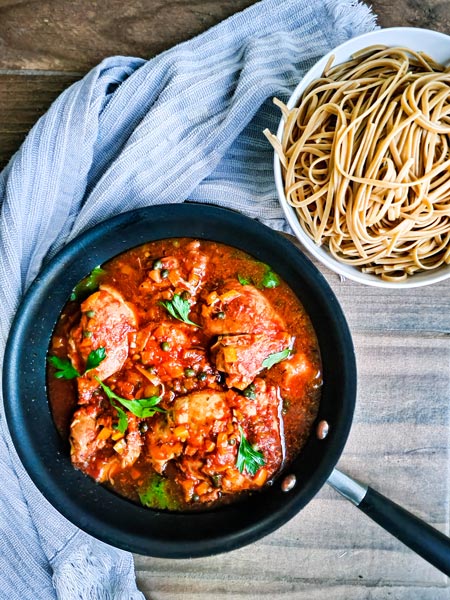 A slow cooker is great for busy firefighters. It allows for one step preparation to an entire balanced meal with limited prep time. You can run calls and drills all day, then come back to the station to a fully cooked meal ready to eat! Give a slow cooker a try with this chicken cacciatore recipe.
Consider buying the bananas the shift before to allow them to ripen.
Active Prep Time: 30 minutes
Makes 6 servings
Ingredients
3 lb boneless, skinless chicken thighs
2 bell peppers, chopped
8 oz (1 cup) baby Bella mushrooms, sliced
2 garlic cloves, minced
1, (28 oz ) can crushed tomatoes
½ cup chicken broth
1 tsp dried oregano
¼ tsp red pepper flakes
1/3 cup capers
8 oz Linguine, cooked
Pinch of salt and freshly ground black pepper
Directions
Season chicken on both sides with salt and pepper and place in a slow cooker.
Add peppers, mushrooms, garlic, tomatoes, and broth, then season with oregano, red pepper flakes, salt and pepper.
Cover and cook on low for 6 to 8 hours or on high for 3 to 4 hours, until chicken is cooked through.
Remove chicken from slow cooker and stir capers into sauce.
Serve chicken over cooked pasta with sauce.
Nutrition
1/6th of recipe, 517 calories, 44g carbohydrate, 17g fat, 49g protein, 7g fiber
Megan Lautz, MS, RD, CSCS, TSAC-F
Megan is a Registered Dietitian and coach who specializes in firefighter nutrition. Megan's mission is to help firefighters perform better, recover faster, and enjoy long healthy retirements. Megan is the owner of RescueRD LLC, which provides nutrition seminars and coaching for tactical athletes across the country. Check out @Rescue.RD on Facebook and Instagram.