Refried Beans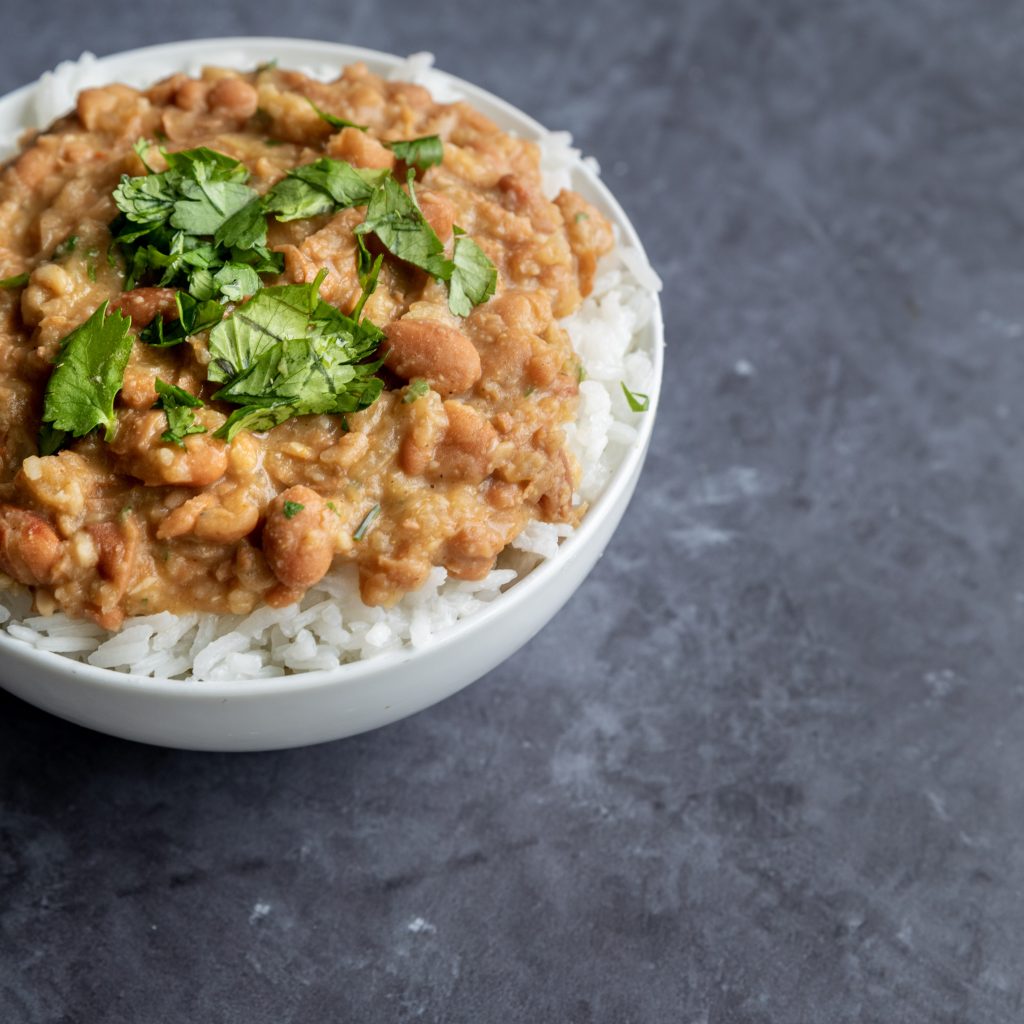 Beans are a fantastic source of fiber and a great addition to station taco nights. Traditionally, refried beans were sauteed in pork lard. This recipe calls for olive or avocado oil to pull down the saturated fat content and increase polyunsaturated fats. Serve with rice, sauteed bell peppers, and Crockpot Chicken Verde.
Active Prep Time: 15 minutes
Makes 6 servings
Ingredients
1-2 Tbsp olive or avocado oil
1 onion, chopped finely
1 medium jalapeno, finely chopped
3 cloves garlic, minced
2, 30 oz cans pinto beans
½ c low sodium chicken broth
¼ tsp salt
1 Tbsp cumin
½ Tbsp chili powder
Fresh chopped cilantro (optional)
Directions
Verde Chicken:
Heat oil in a deep skillet for 1 minute. Add garlic and onion, sautee until onions are translucent and slightly browned.
While sauteeing the onions, drain and rinse pinto beans.
Add rinsed pinto beans and chicken broth to onions. Bring to boil and cook on medium heat for 3-5 minutes. Add seasonings and salt.
Mash beans with a potato masher or fork. Remove from heat and enjoy!
Nutrition
1/6 of recipe (roughly ¾ cup beans), 215 calories, 31g carbohydrate, 6g fat, 8g protein, 9g fiber
Notes
Black beans also work in a pinch
Serving options: whole grain tortillas, rice, cauliflower rice
Megan Lautz, MS, RD, CSCS, TSAC-F
Megan is a Registered Dietitian and coach who specializes in firefighter nutrition. Megan's mission is to help firefighters perform better, recover faster, and enjoy long healthy retirements. Megan is the owner of RescueRD LLC, which provides nutrition seminars and coaching for tactical athletes across the country. Check out @Rescue.RD on Facebook and Instagram.