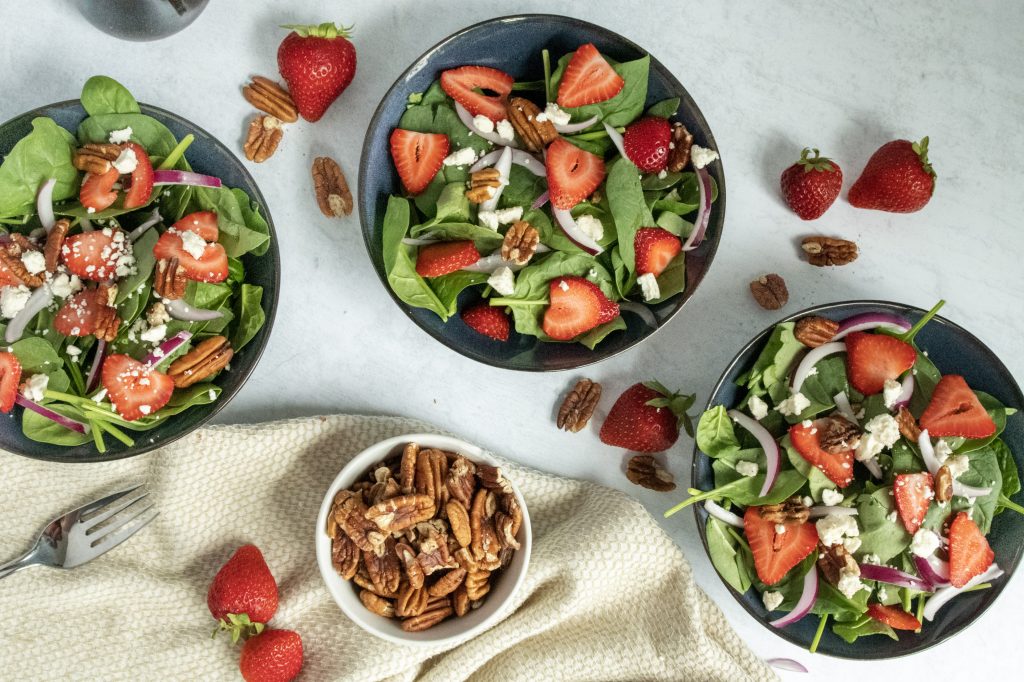 Strawberry Spinach Salad
Toss your iceberg lettuce; this spinach salad is way more interesting! Spinach and strawberries are high in antioxidants, which are key to shift and workout recovery. The balsamic vinaigrette adds depth and provides healthy fats to help absorb fat-soluble vitamins.
Active Prep Time: 15 minutes
Makes 4 servings
Ingredients
8 oz baby spinach
½ red onion, sliced
½ quart of strawberries, sliced
⅓ cup pecan halves
¼ cup feta
Directions
Slice the onions and strawberries. Combine remaining ingredients and serve.
Honey Dijon Vinagrette
¾ c extra virgin olive oil
¼ c balsamic vinegar
1 Tbsp honey
1 Tbsp dijon mustard
1 garlic clove, minced
½ tsp salt
½ tsp black pepper
Directions
Combine ingredients, shake well, and serve
Nutrition
¼ salad: 115 calories, 6g carbs, 9g fat, 4g protein, 2g fiber
2 Tbsp dressing: 180 calories, 4g carbs, 19g fat, 0g protein, 0g fiber
Megan Lautz, MS, RD, CSCS, TSAC-F
Megan is a Registered Dietitian and coach who specializes in firefighter nutrition. Megan's mission is to help firefighters perform better, recover faster, and enjoy long healthy retirements. Megan owns RescueRD LLC, which provides nutrition seminars and coaching for tactical athletes across the country. Check out @Rescue.RD on Facebook and Instagram.