Greek Salad with Avocado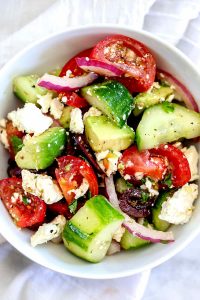 A simple Greek salad dressing completes this easy and authentic Greek salad with the addition of creamy avocado for a simple salad side dish that goes with everything.
Prep Time

20 min

Total Time

20 min

Serving Size

8

Energy

323 cal
Ingredients:
2 English cucumbers peeled in stripes and cut into 1/2 inch slices
1 1/2 pounds medium tomatoes I use cocktail tomatoes, stemmed and quartered
1/4 small red onion thinly sliced
1 1/2 cups kalamata olives pitted and halved
1/4 cup Italian flat leaf parsley chopped<
2 avocados pitted and cut into chunks
1 cup feta cheese broken into large chunks
1/2 cup extra virgin olive oil
1/2 cup red wine vinegar
2 cloves garlic peeled and minced<
1 tablespoon oregano
2 teaspoons sugar
1 teaspoon each of kosher salt and freshly ground black pepper
Instructions:
1
In a large serving bowl, combine the cucumbers, tomatoes, red onion, kalamata olives and parsley. Place the avocado in a small bowl and set aside.
2
In a small canning jar, combine the olive oil, red wine vinegar, garlic, oregano, sugar and salt and pepper. Top with the lid and shake well until blended and emulsified. Season with more sugar and salt and pepper to taste.
3
Pour 1 tablespoon of the dressing on the sliced avocado and gently mix to coat. Pour the rest of the dressing on the cucumber mixture and toss to coat. Add the avocado to the salad and top with chunks of feta cheese, and serve.
Recipe Notes:
As the salad sits, the juices from the vegetables will release, adding to the amount of dressing. If you prefer, reserve some of the dressing and add only if needed for more moisture.
This Greek salad keeps in the refrigerator for 4-5 days.