Banana Cream Pie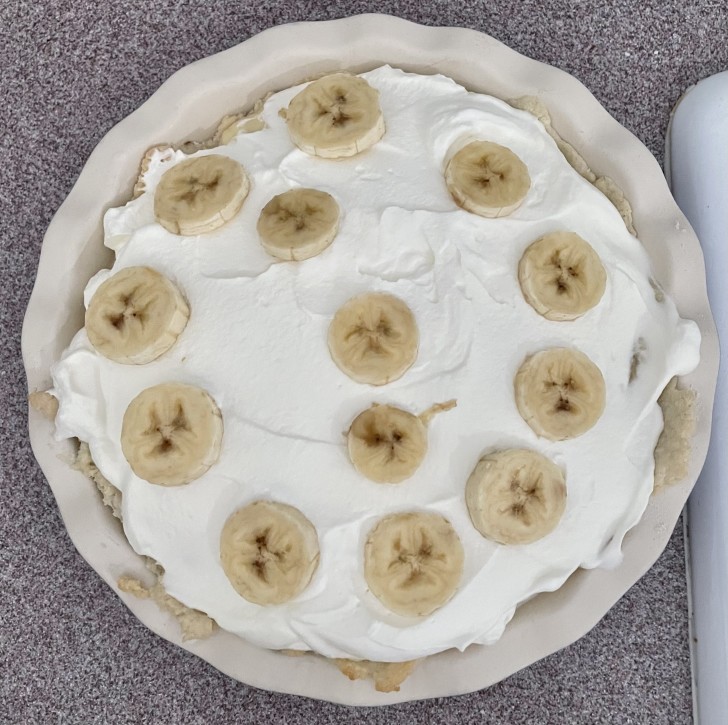 The heat and humidity is rising, cool off with this frozen banana cream pie! This pie serves eight, but in reality four firefighters. Keep this in mind when making at the station. Limit your portion if your goal is weight loss or if you had a heavy dinner before.
Consider buying the bananas the shift before to allow them to ripen.
Active Prep Time: 15 minutes
Makes 8 servings
Ingredients
1 sugar-free, fat-free vanilla (or banana) pudding mix 
1 fat free evaporated milk (12 oz) 
1 tub light whipped topping (Cool Whip) 
1 tub light whipped topping (Cool Whip) 
1 premade Graham cracker pie crust (9in)
Directions
Whisk pudding mix and evaporated milk until smooth (2 minutes).
Slice banana and place half of the slices on the bottom of the crust.
Pour pudding mix into pie crust.
Top with remaining banana slices and defrosted whipped topping.
Refrigerate or freeze at least 2 hours before serving.
Nutrition
⅛ slice of pie: 270 calories, 9g fat, 41g carbs, 9g protein.
This lightened version is 120 cal and 7g fat less per serving than the original.
Megan Lautz, MS, RD, CSCS, TSAC-F
Megan is a Registered Dietitian and coach who specializes in firefighter nutrition. Megan's mission is to help firefighters perform better, recover faster, and enjoy long healthy retirements. Megan is the owner of RescueRD LLC, which provides nutrition seminars and coaching for tactical athletes across the country. Check out @Rescue.RD on Facebook and Instagram.