Orange Chicken Stirfry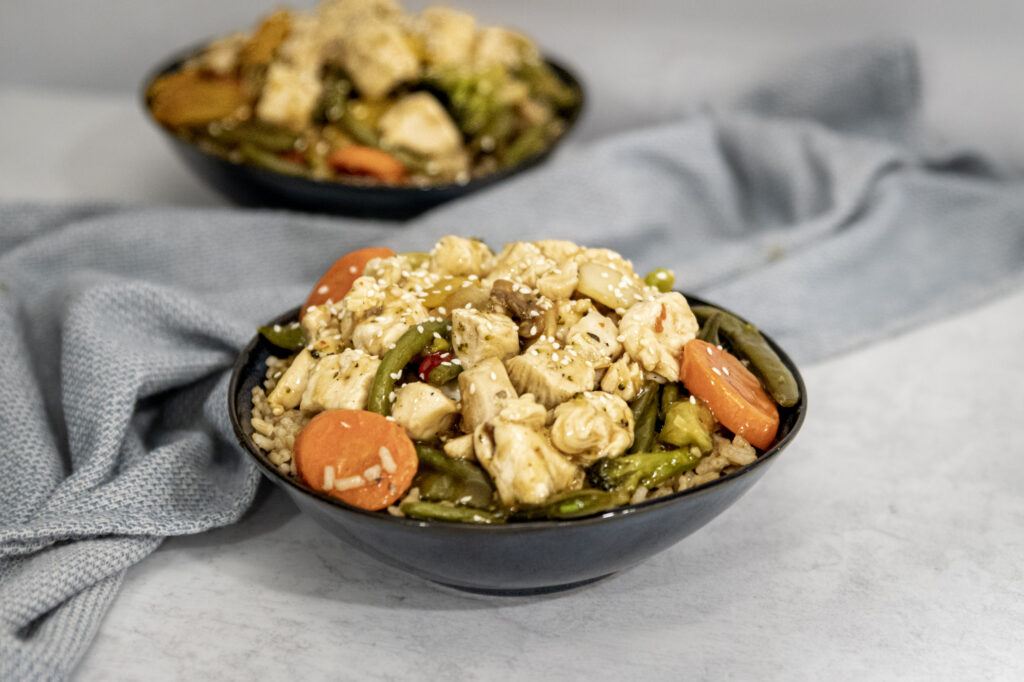 Chinese take out is notoriously high in sodium and sugar. This orange chicken stir fry is an easy to prepare alternative to take out. This meal is balanced with vegetables and protein and the brown rice will help keep your energy high for a long shift. A dash of sriracha can be added to top for added flavor or spice.
Brown rice is recommended for this recipe; though you can mix up the grain option however you like. Consider quinoa or a wild rice blend. A whole grain option is preferred. If your shift won't go for anything other than white rice, double up the veggies to keep the fiber content high.
Prep Time: 30-40 minutes
Makes 6 servings
Ingredients
3 lb boneless, skinless chicken breasts
4 cloves garlic, minced
3/4 cup orange juice
3/4 cup honey
1/2 cup low sodium soy sauce
1/3 cup rice wine vinegar
4 1/2 tbsp cornstarch
6 cups cooked brown rice
6 tbsp sriracha
3 tbsp sesame seeds
6 cups frozen vegetables
Directions
In a bowl whisk together juice of orange, soy sauce, minced garlic, rice wine vinegar, and cornstarch. Whisk until fully combined.
Cut chicken into bite size pieces, and season with salt and pepper.
Heat oil in pan, add chicken to pan and cook until almost cooked through.
Add vegetables to the pan cook for an additional 4-7 minutes.
Turn to medium low heat. Add sauce to chicken cook until sauce has thickened enough to coat the back of a spoon.
Cook brown rice as directed on package.
Serve chicken and vegetables over brown rice, top with sesame seeds and sriracha as desired.
Nutrition
1/6th original recipe: 625 calories, 60g carbohydrates, 17g fat, 56g protein, 4g fiber
Notes
Brown rice can be swapped for out with quinoa, couscous, or white rice is brown rice doesn't suit your taste.
Add sriracha once plated to fit individuals spice preference.
Sauce can be prepped ahead of time and refrigerated for quicker prep.
For quicker prep use microwavable rice packets & pre minced garlic.
Megan Lautz, MS, RD, CSCS, TSAC-F
Megan is a Registered Dietitian and coach who specializes in firefighter nutrition. Megan's mission is to help firefighters perform better, recover faster, and enjoy long healthy retirements. Megan is the owner of RescueRD LLC, which provides nutrition seminars and coaching for tactical athletes across the country. Check out @Rescue.RD on Facebook and Instagram.