Strawberries and Cream Overnight Oats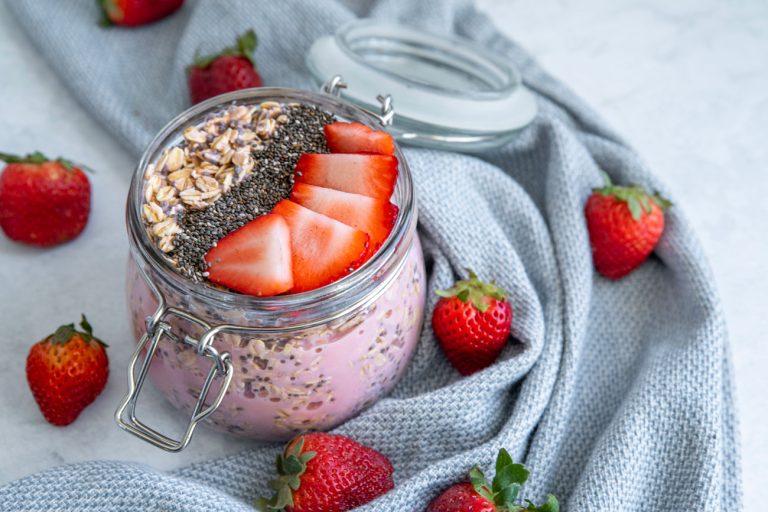 Overnight oats are the perfect commuter breakfast, or enjoy it at line up! Combine the ingredients the night before and breakfast is ready for you in the morning. Oats, chia seeds, and strawberries are high-fiber ingredients packed with micronutrients to keep you fueled until lunch.
Active Prep Time: 5 minutes
Makes 1 serving.
½ cup fresh strawberries, sliced

½ cup old-fashioned rolled oats
1 tablespoon chia seeds
1, 5.3 oz cup strawberry Greek yogurt (low sugar)

¾ cup almond, dairy, or soy milk
Combine the ingredients and let them sit in the fridge overnight. Mix in the morning and enjoy.
340 calories, 47 g carbs, 9 g fat, 20 g protein, 9 g fiber (almond milk)
Frozen strawberries can work in a pinch

.

Prep a few at the beginning of the week, they will last 5-6 days in the fridge

.
Megan Lautz, MS, RD, CSCS, TSAC-F
Megan is a Registered Dietitian and coach who specializes in firefighter nutrition. Megan's mission is to help firefighters perform better, recover faster, and enjoy long healthy retirements. Megan is the owner of RescueRD LLC, which provides nutrition seminars and coaching for tactical athletes across the country. Check out @Rescue.RD on Facebook and Instagram.