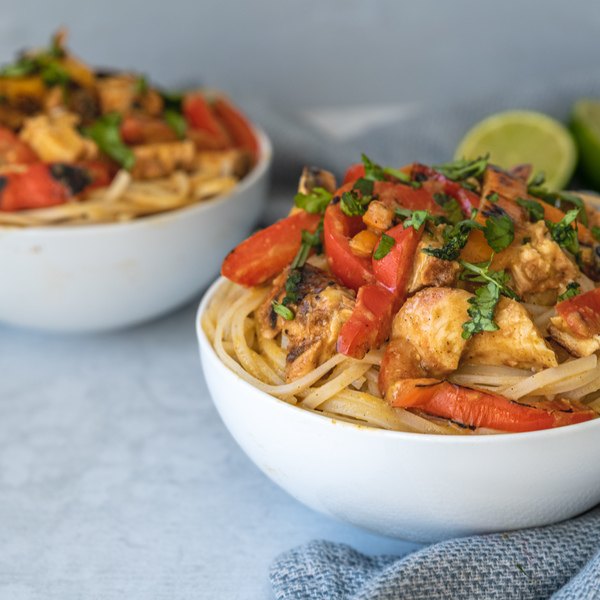 Coconut and mango may not sound like they go with chicken, but this sauce is delicious and simple to make. Many ingredients are frozen or canned, meaning you can keep them on hand for a quick dinner or meal prep.
Active Prep Time: 30 minutes
Makes 6 servings
1 tablespoon avocado oil
4 bell peppers, sliced
1, 13.5 oz can of coconut milk
1 cup frozen mango
1 16 oz jar salsa verde
1 tablespoon cumin
1 tablespoon chili powder
1/2 tsp salt
3-5 lb chicken breast
6-9 cups cooked rice
Slice bell pepper. Heat oil over medium-high heat. Add bell peppers and sauté until browned for 5-8 minutes.
Combine coconut milk, frozen mango, salsa verde, spices, and salt in a food processor or blender until smooth. Add to peppers (once cooked) and mix until heated through.
Grill or bake the chicken at 350˚F for 10-15 minutes or until cooked.
Serve the sauce over chicken and rice.
1 medium chicken breast with ⅔ cup sauce: 400 calories, 12 g carbohydrate, 23g fat, 38g protein, 8g fiber
Trade rice noodles for brown rice to mix up the dish
Brown rice is recommended for extra fiber. However, if white rice is preferred, consider mixing in ¼ cup cauliflower rice into ¾ cup cooked rice to boost the fiber content back up. Frozen cauliflower rice is inexpensive and heats up quickly in the microwave.
Megan Lautz, MS, RD, CSCS, TSAC-F
Megan is a Registered Dietitian and coach who specializes in firefighter nutrition. Megan's mission is to help firefighters perform better, recover faster, and enjoy long healthy retirements. Megan is the owner of RescueRD LLC, which provides nutrition seminars and coaching for tactical athletes across the country. Check out @Rescue.RD on Facebook and Instagram.