Strawberry Lemonade Smoothie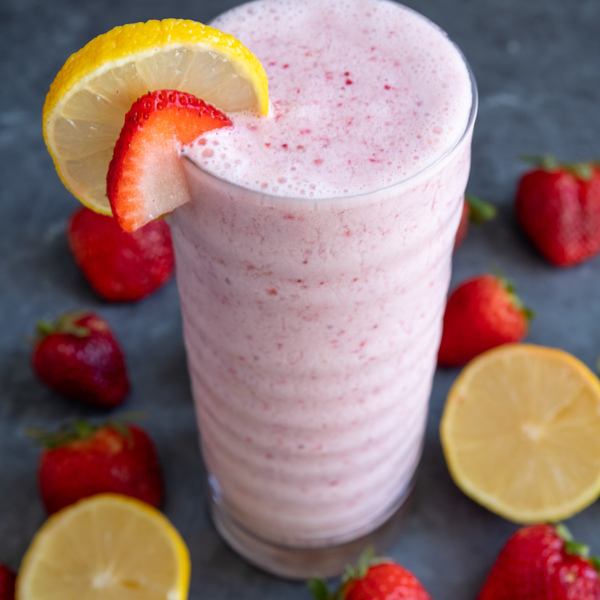 Summer is finally here, and nothing is more refreshing than lemonade. Start the morning off with a hydrating, high-protein smoothie. Frozen fruit keeps longer than fresh while maintaining similar vitamins and mineral content. 
Active Prep Time: 5 minutes
Makes 1 16oz  serving
Ingredients
1/2 cup frozen strawberries
1, 5.3 oz cup of lemon Greek yogurt (low sugar, ex. Light & Fit)
Juice from ½ lemon
¾ cup almond, dairy, or soy milk
Optional: 1 scoop of vanilla or strawberry protein powder
1-2 handfuls of spinach (optional but recommended)
Directions
Combine the ingredients into a 16 oz portable blender cup and blend. Add ice as needed.
Nutrition
1 smoothie: 180 calories, 29g carbs, 2g fat, 13g protein, 3g fiber (almond milk, no protein powder)
Notes
To get a full serving of veggies without the taste, add spinach. Fresh spinach blended into smoothies is tasteless but will turn your smoothie green!
To increase the calories for weight gain or as a meal replacement, add oats or use dairy/coconut milk.
Pair with whole-grain toast or a whole-grain granola bar
Megan Lautz, MS, RD, CSCS, TSAC-F 
Megan is a Registered Dietitian and coach who specializes in firefighter nutrition. Megan's mission is to help firefighters perform better, recover faster, and enjoy long, healthy retirements. Megan owns RescueRD LLC, which provides nutrition seminars and coaching for tactical athletes across the country. Check out @Rescue.RD on Facebook and Instagram.