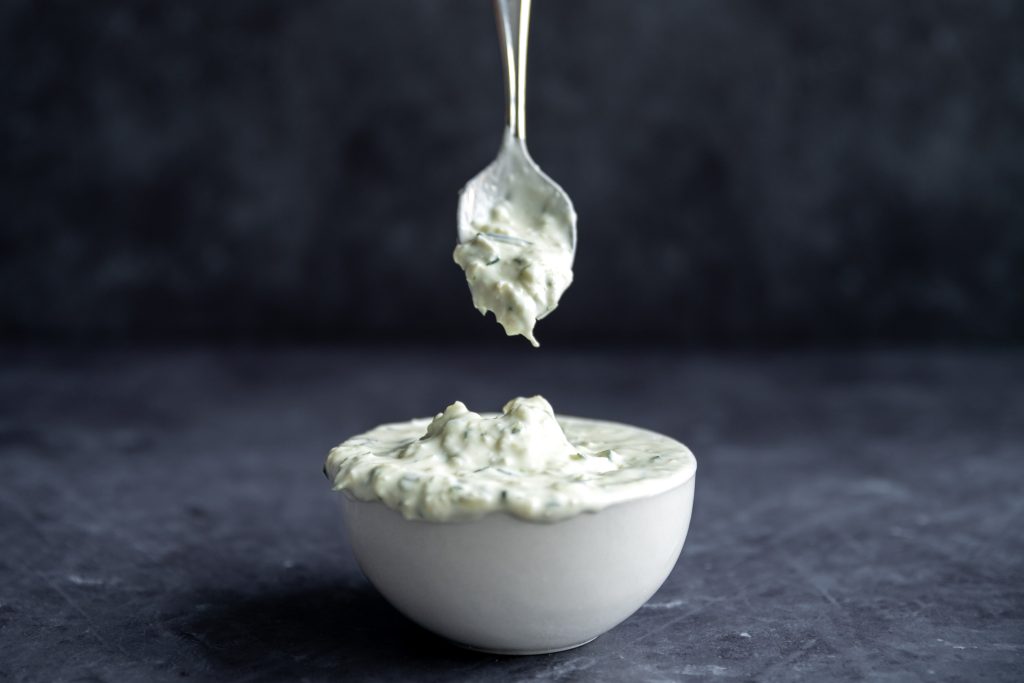 Tzatziki is a creamy cucumber and yogurt sauce often found in Middle Eastern cuisine. Cucumber and yogurt may sound like an odd combination, but it adds a delicious tangy flavor when paired with gyros. Be sure to strain the grated cucumber well to eliminate excess moisture.
Active Prep Time: 10 minutes
Makes 8 servings
Ingredients
½ cup cucumbers, shredded and drained
1 ¼ cup Greek yogurt (2%)
Juice of 1 small lemon
1 tablespoon extra virgin olive oil 
3 garlic cloves, minced
½ tsp salt 
Directions
Cut the cucumber lengthwise and remove the seeds using a smooth. Grate the cucumber. Wrap the grated cucumber in cheesecloth or a paper towel, and squeeze to remove excess liquid. Repeat a few times until dry. 
Combine cucumber with the remaining ingredients. Let sit for 1 hour if possible, and serve with gyros.
Nutrition
¼ cup: 60 calories, 5g carbohydrate,3g fat, 3g protein, 0g fiber
Notes
Megan Lautz, MS, RD, CSCS, TSAC-F 
Megan is a Registered Dietitian and coach who specializes in firefighter nutrition. Megan's mission is to help firefighters perform better, recover faster, and enjoy long, healthy retirements. Megan is the owner of RescueRD LLC, which provides nutrition seminars and coaching for tactical athletes across the country. Check out @Rescue.RD on Facebook and Instagram.