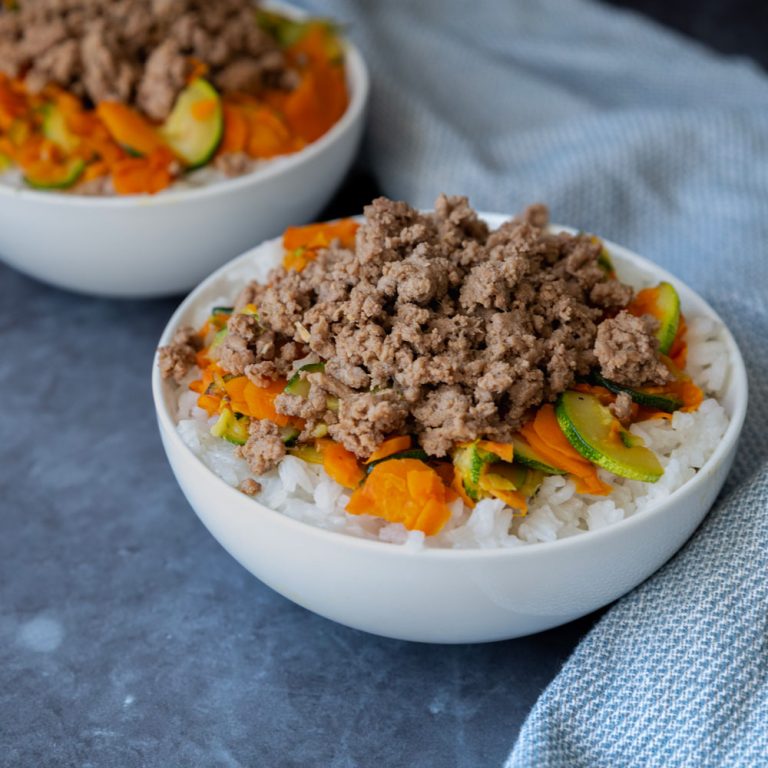 Bibimbap is an Asian dish made of a stirfry of veggies and meat. For the veggies, use a mandoline or the slicing side of a box grater for even chopping. A mini food processor with a slicing attachment will save you a ton of time!
Active Prep Time: 30 minutes
Makes 6 servings.
1 bag of carrots, peeled and sliced thinly

3-4 small zucchini, sliced thinly

1 tbsp

sesame oil
4-6 lb ground turkey (ideally 90/10)

1 tablespoon freshly grated ginger

1/3 cup low-sodium soy sauce

½ tablespoon rice vinegar

2 tablespoons brown sugar

6-9 cups cooked rice

Sriracha (optional)
Thinly slice carrots and zucchini. Heat the sesame oil on medium-high heat in a wok or large stir-fry pan. Add carrots and zucchini to the pan, and cook for 5-8 minutes mixing regularly.

In a separate pan, cook the ground turkey on medium heat until cooked through. Drain excess fat.

Add ginger, soy sauce, rice vinegar, and brown sugar to the ground turkey and mix thoroughly. Serve with rice and stir-fried veggies.

 
 1.5 cups (⅙ of recipe): 600 calories, 15 g carbohydrate, 27 g fat, 56 g protein, 3 g fiber
A mandolin or food processor is recommended to speed up chopping.

Brown rice is recommended for extra fiber. However, if white rice is preferred, consider mixing in ¼ cup cauliflower rice into ¾ cup cooked rice to boost the fiber content. Frozen cauliflower rice is inexpensive and heats up quickly in the microwave.

Consider a tube of pre-grated ginger to save time (Aldi has some in the spice aisle)
Megan Lautz, MS, RD, CSCS, TSAC-F
Megan is a Registered Dietitian and coach who specializes in firefighter nutrition. Megan's mission is to help firefighters perform better, recover faster, and enjoy long healthy retirements. Megan is the owner of RescueRD LLC, which provides nutrition seminars and coaching for tactical athletes across the country. Check out @Rescue.RD on Facebook and Instagram.