Apple Cranberry Sauce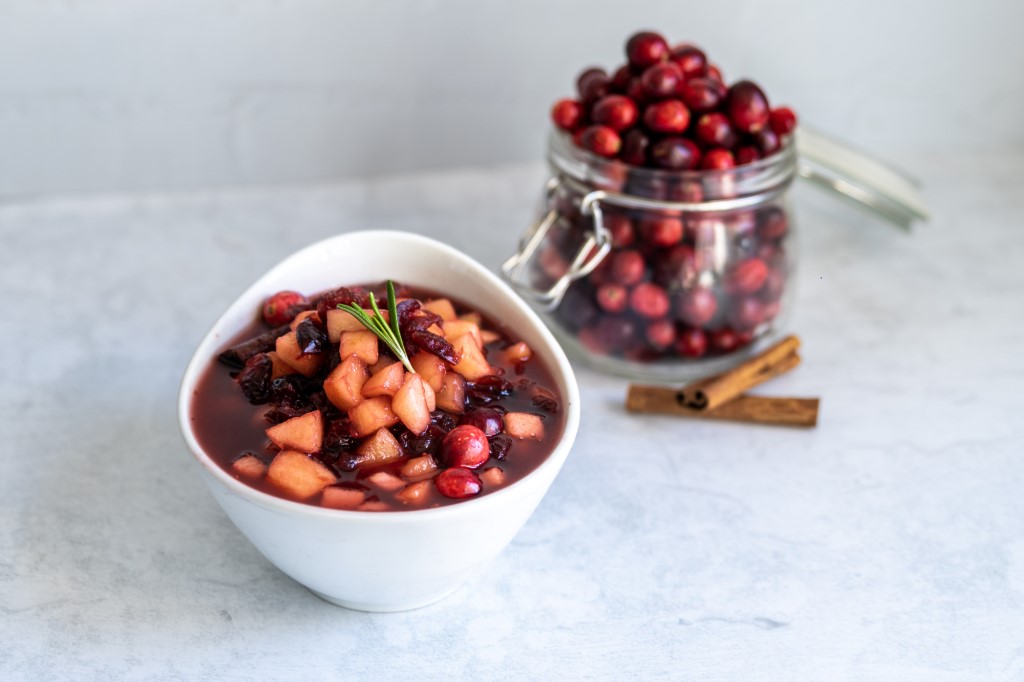 Need a sweet side to balance out a savory dinner? Try this simple apple cranberry sauce!
Prep Time: 10-15 minutes
Makes 6 servings
Ingredients
2 cups low sugar or no sugar added cranberry juices
1 (6 oz) bag no sugar added dried cranberries
¼-½ cup sugar
¼ cup Truvia (optional)
2 apples, peeled, cored, and diced
2 teaspoons cornstarch
Directions
Combine the cranberry juice, cranberries, cinamon, sugar, and Truvia in a saucepan over medium heat. Bring to a boil and cook for 5 minutes.
Add apples and cook for 5 minutes, or until apples are tender.
Remove 8 ounces of liquid into a small bowl and whisk in cornstarch. Add back into the cranberry mixture, stirring occasionally and cooking for an additional 5 minutes.
Remove from heat and allow to cool. Refrigerate for 30 minutes and remove the cinnamon stick before serving.
Nutrition
½ cup: 200 calories, 60g carbohydrate, 1g fat, 0g protein, 2g fiber
Notes
Diet or 0 calorie cranberry juice is not recommended, it may add a "fake" sugar taste to the recipe. However, if you do not notice the taste go ahead and use it!
Megan Lautz, MS, RD, CSCS, TSAC-F
Megan is a Registered Dietitian and coach who specializes in firefighter nutrition. Megan's mission is to help firefighters perform better, recover faster, and enjoy long healthy retirements. Megan is the owner of RescueRD LLC, which provides nutrition seminars and coaching for tactical athletes across the country. Check out @Rescue.RD on Facebook and Instagram.