Chimichurri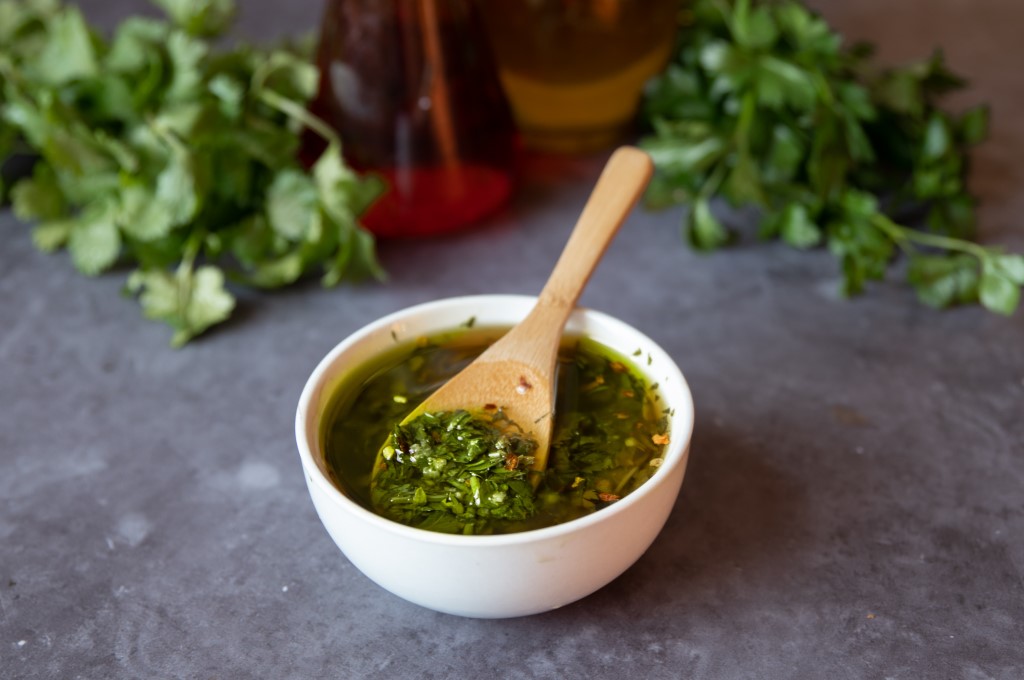 Chimichurri is a quick, herb-based sauce to jazz up a grilled lean protein, from chicken to pork loin to sirloin. Chimichurri is packed with antioxidants, but keep the serving small if your goal is weight loss. The olive oil, while healthy, is high in calories.
Prep Time: 5-10 minutes
Makes 6 servings
Ingredients
1 cup packed cilantro
1/2 cup packed flat-leaf parsley
3-4 garlic cloves, peeled and minced
1 jalapeno
1/2 cup extra virgin olive oil
2 Tbsp red wine vinegar
2 Tbsp lime juice
1/2 tsp dried oregano
1/4 tsp salt
1/4 tsp pepper
Directions
Finely chop the cilantro, parsley, garlic, and jalapeno. Combine with the remaining ingredients and serve over a lean protein.
Nutrition
¼ cup: 175 calories, 2g carbohydrate, 19g fat, 0g protein, 0g fiber
Notes
You can combine all of the ingredients in a food processor, however, traditional chimichurri is roughly chopped. It is technically considered a "loose, oil based condiment" over an herbed mash.
Megan Lautz, MS, RD, CSCS, TSAC-F
Megan is a Registered Dietitian and coach who specializes in firefighter nutrition. Megan's mission is to help firefighters perform better, recover faster, and enjoy long healthy retirements. Megan is the owner of RescueRD LLC, which provides nutrition seminars and coaching for tactical athletes across the country. Check out @Rescue.RD on Facebook and Instagram.