Sweet Chili Salmon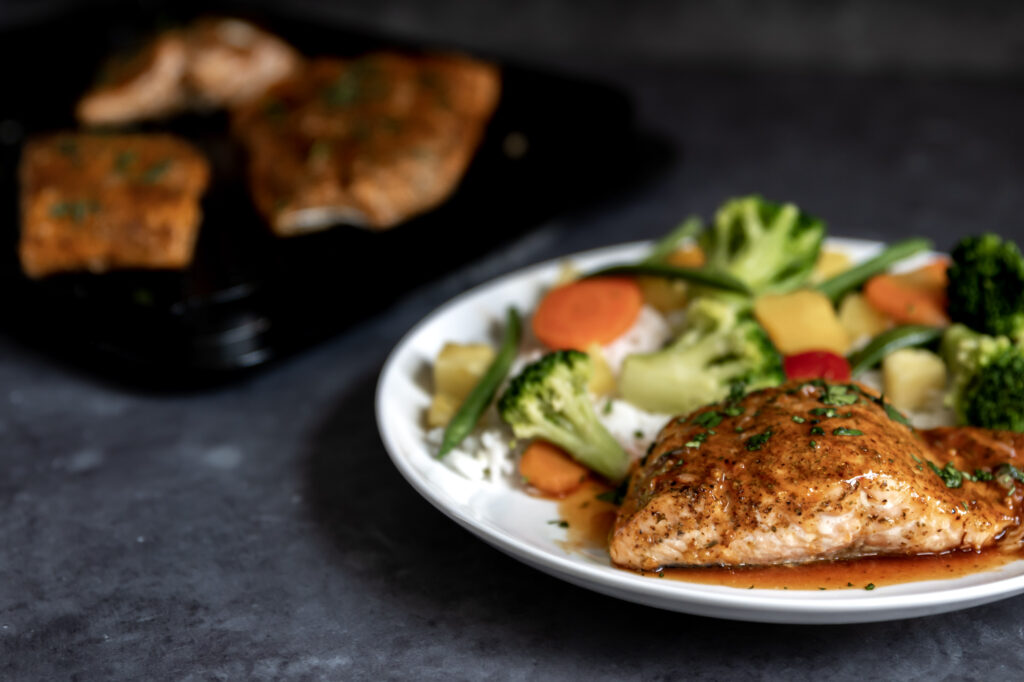 Salmon is a fantastic source of omega 3's. It is also one of the few sources of astaxanthin, a powerful antioxidant that is responsible for the pink hue of salmon, lobster, shrimp, crab, and more. Astaxanthin acts as a free radical scavenger, reducing oxidative stress causes by firefighting (pollution, stress, sleep deprivation, etc.)
Prep Time: 30 minutes
Makes 4 servings
Ingredients
2 lb salmon, fresh or frozen
1 Tbsp seafood blend seasoning
3 Tbsp low sodium soy sauce
6 Tbsp sweet chili sauce
1 lime, juiced
Directions
Pat the salmon dry with a paper towel. Place skin side down on the pan or grill, and sprinkle seasoning on top. Grill, bake, or airfry at 400 degrees for 15-20 minutes until cooked through.
Whisk together soy sauce, sweet chili sauce, and lime juice. Baste over salmon. Serve with rice and stir fry veggies.
Nutrition
¼ salmon filet (4-6 oz) with 2 Tbsp sauce: 530 calories, 10g carbs, 30g fat, 47g protein, 0 fiber
Notes
Consider a bag of frozen stir fry veggies to save time prepping. Costco has a huge bag in the freezer aisle.
Megan Lautz, MS, RD, CSCS, TSAC-F 
Megan is a Registered Dietitian and coach who specializes in firefighter nutrition. Megan's mission is to help firefighters perform better, recover faster, and enjoy long healthy retirements. Megan is the owner of RescueRD LLC, which provides nutrition seminars and coaching for tactical athletes across the country. Check out @Rescue.RD on Facebook and Instagram.