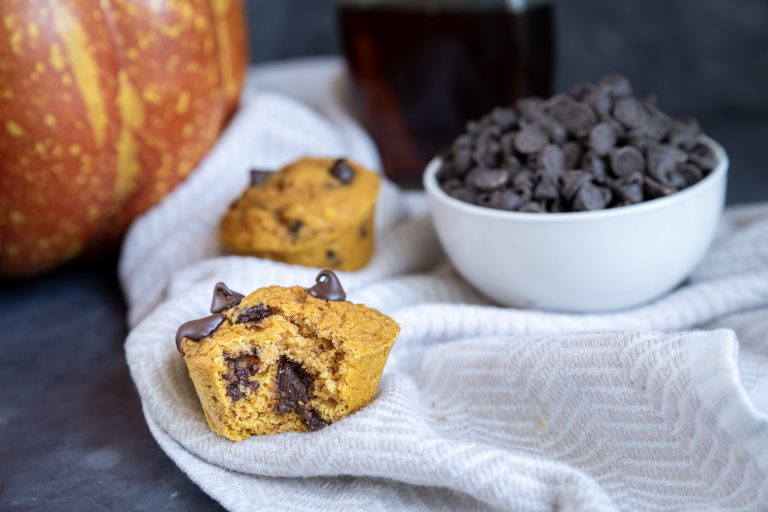 Craving pancakes, but need something more portable? These muffins are not only portable but can crush cravings for sweets. Use a whole grain, high protein muffin mix like Kodiak Cakes to cut prep time
Active Prep Time: 5 minutes
Makes 12 servings.
2 cup Kodiak Cake Pancake mix

1 cup low-fat milk

1 egg

1 cup pumpkin puree 

¼ cup pure maple syrup

⅛ tsp salt

1 Tbsp pumpkin pie spice

⅔ cup dark chocolate chips
Preheat oven to 350℉

Combine ingredients in a medium bowl. Divide into 12 muffin cups. Bake for 15-20 minutes or until a toothpick inserted comes out clean.
1 muffin: 175 calories, 7 g protein, 28 g carbohydrate, 5 g fat, 3 g fiber
Boost the protein content by adding a scoop of vanilla protein powder. Refrigerate to prevent from spoiling.
Megan Lautz, MS, RD, CSCS, TSAC-F
Megan is a Registered Dietitian and coach who specializes in firefighter nutrition. Megan's mission is to help firefighters perform better, recover faster, and enjoy long healthy retirements. Megan is the owner of RescueRD LLC, which provides nutrition seminars and coaching for tactical athletes across the country. Check out @Rescue.RD on Facebook and Instagram.