Mediterranean Grilled Balsamic Chicken with Olive Tapenade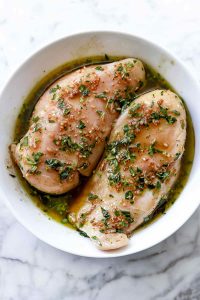 A simple marinade with two kinds of balsamic vinegar, fresh herbs, and grainy mustard gives this grilled balsamic chicken topped with an easy olive and sun dried tomato tapenade a classic Mediterranean flavor zing.
Prep Time

10 min

Cook Time

30 min

Total Time

40 min

Yield

6 Chicken Breasts
Ingredients
6 skinless boneless Simple Truth chicken breasts
0.75 cup olive oil
0.75 cup golden balsamic vinegar
0.38 cup Private Selection Whole Grain Garlic Mustard
4.5 tablespoons balsamic vinegar
9 cloves garlic pressed or minced
Juice of 1/2 lemon
3 heaping tablespoon chopped fresh herbs such as Simple Truth tarragon rosemary or thyme
3 teaspoon kosher salt
1.5 teaspoon freshly ground black pepper
Serve with Olive Tapenade recipe below and chunks of feta cheese
Instructions
1
Trim any extra fat from the chicken breasts and place in a bowl or a gallon size freezer bag.
2
In a small bowl, whisk the olive oil, balsamic vinegars, mustard, garlic, lemon juice, herbs, and salt and pepper. Reserve half of the marinade and add the other half to the bowl or bag with the chicken. Marinate for at least 30 minutes up to overnight, turning occasionally.
3
When ready to grill, bring one side of an outdoor grill to high heat with the other side off.
4
Oil the grill grates well and drizzle the chicken breasts with more olive oil, then place the chicken breasts on the hot grill. Cook for 2-3 minutes or until grill marks appear, then flip the chicken and cook for another 2-3 minutes. Move the chicken to the cooler grates of the grill, cover, and cook for 10 minutes. Transfer a few tablespoons of the reserved marinade to another bowl and use it to baste the chicken with and flip. Continue cooking, basting, and flipping until the breasts have an internal temperature of 165 degrees. Move the chicken to the hot side of the grill to add more grill marks and color to the chicken breast but be sure to watch them so the balsamic marinade doesn't burn. The length of cooking time will depend up on the thickness of the breasts but you should count on the whole cooking time to be about 30 minutes.
5
Transfer the chicken to a platter and cover with a piece of aluminum foil and let rest for 5 minutes. Serve with olive tapenade, chunks of feta cheese minced herbs and drizzle with any leftover marinade or olive oil.