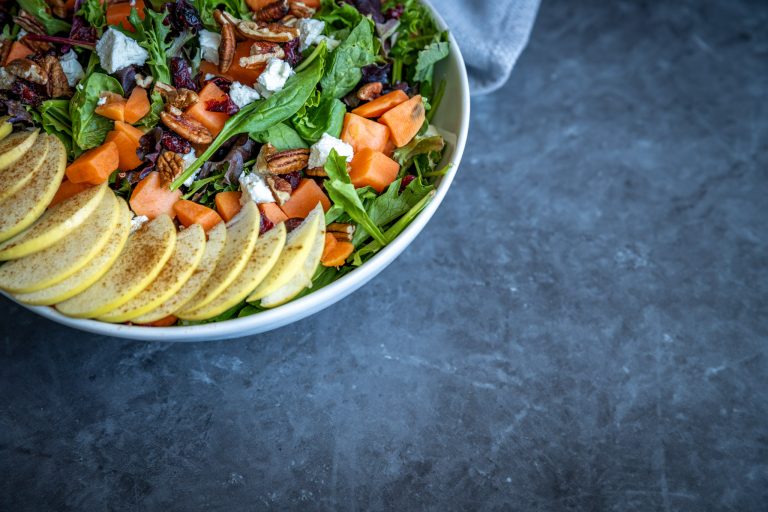 It's finally fall! This salad is the perfect transition from summer to fall and highlights fall produce. Frozen sweet potato thaws quickly and saves prep time. 
Active Prep Time: 15 minutes
Makes 6 servings.
6 cups mixed greens

1 package frozen sweet potato cubes

1 apple, cubed

1/3 cup reduced-sugar dried cranberries

1/3 cup goat cheese, crumbled

1/3 cup pecan halves
Combine ingredients in a medium bowl. Enjoy!
150 calories, 5 g protein, 22 g carbohydrate, 6 g fat, 6 g fiber
If you have sweet potatoes on hand, cube and roast at 425 for 20-35 minutes. Coat lightly in olive oil and sprinkle with cinnamon, a pinch of salt, and a bit of brown sugar.
3/4 extra virgin olive oil

1/4 c apple cider vinegar

2 Tbsp apple cider vinegar

3 garlic cloves, minced

1 Tbsp dijon mustard

1 Tbsp honey

½ tsp salt
Shake ingredients in a cruet or whisk in a small bowl. Enjoy!
2 Tbsp: 180 calories, 4g carbs, 19g fat, 0g protein, 0g fiber
Megan Lautz, MS, RD, CSCS, TSAC-F
Megan is a Registered Dietitian and coach who specializes in firefighter nutrition. Megan's mission is to help firefighters perform better, recover faster, and enjoy long healthy retirements. Megan is the owner of RescueRD LLC, which provides nutrition seminars and coaching for tactical athletes across the country. Check out @Rescue.RD on Facebook and Instagram.