Cajun Chicken Pasta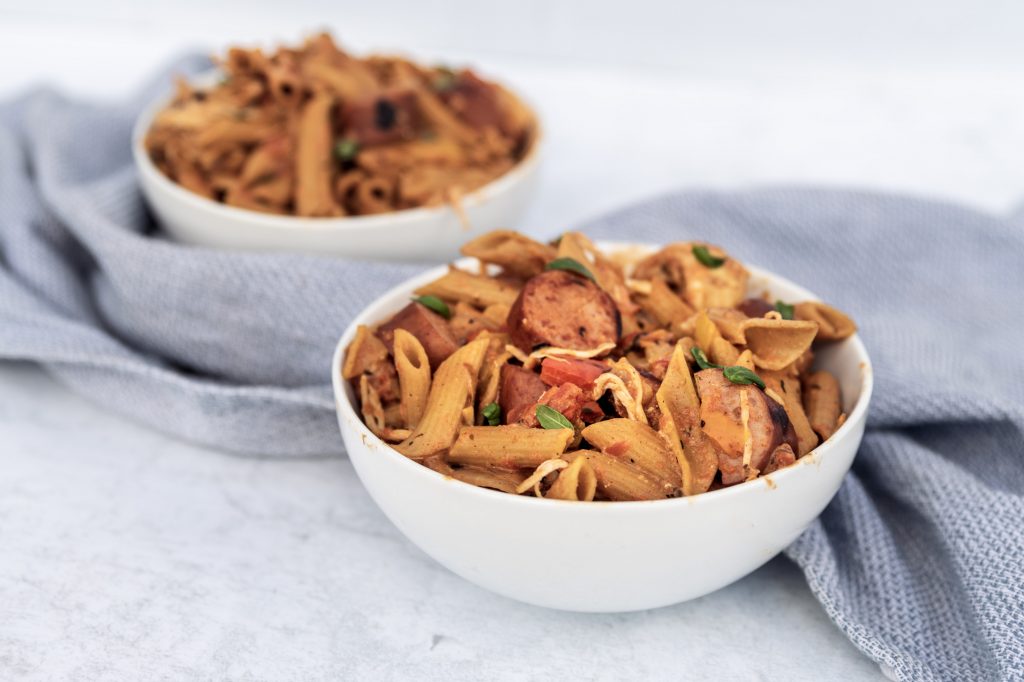 This pasta is a flavorful, quick recipe to satisfy almost every diet on your shift. Serve the protein and pasta separately to accommodate vegetarians or those following a low-carb/keto diet. Swap out the whole wheat pasta for gluten-free pasta for those with gluten intolerance.
Pasta has a bad reputation in the health industry but can fit into a healthy diet in the appropriate portions. If it's been a slow day, have a smaller portion than normal. If it's been a busy day, have another ½ to 1 cup serving. Enjoy at least 1-2 cups of salad or another vegetable with this dish.
Prep Time: 30-40 minutes
Ingredients
2 tbsp olive oil
3 lb chicken breast, cubed
1 yellow onion diced
2 bell peppers sliced
1 box whole wheat/whole grain penne pasta
2 cans of 14.5 oz fire-roasted diced tomatoes
1 link low sodium turkey kielbasa
1 32 oz box chicken broth
4 oz Neufchatel cream cheese
2 tbsp of Cajun seasoning
Directions
Add oil to a large deep skillet or stock pot. Once heated, add the cubed chicken to the pan and add Cajun seasoning.
Cook until the chicken gets some color (it does not need to be cooked through). Add diced onions and sliced peppers. Cook until softened.
Add pasta, fire-roasted tomatoes (with juices), and chicken broth to the pan. Stir until combined and top with a lid until broth comes to a boil. Next, turn the heat to medium and allow to simmer for 10 minutes (with the lid on), stirring every few minutes.
Cook until pasta is tender and broth thickens. Add the cream cheese in small chunks and stir until melted into pasta.
Brown the turkey kielbasa in a separate frying pan. Cut into half moons and mix into the finished pasta.
Serve with a bagged or prepared salad.
Nutrition
1.5 cup (1/6th serving), 600 calories, 63g carbohydrates, 11g fat, 55g protein, 9g fiber
Cajun Seasoning
This recipe tastes best with the Cajun seasoning recipe below – but if you have a premade mix, that will work!
2 tbsp smoked paprika
2 tsp oregano
2 tsp thyme
2 tsp garlic powder
2 tsp onion powder
½ tsp cayenne pepper
1 tsp black pepper
½ tsp salt
Notes
It may be easier to bake or grill the chicken, then add it at the end of cooking. I often place the chicken in a crockpot for 8 hours before the meal and then shred it.
To make this dish a vegetarian option for part of the shift, cook all chicken and turkey kielbasa in separate pans (or eliminate them entirely). Serve the pasta and chicken/kielbasa separately.
Megan Lautz, MS, RD, CSCS, TSAC-F
Megan is a Registered Dietitian and coach who specializes in firefighter nutrition. Megan's mission is to help firefighters perform better, recover faster, and enjoy long healthy retirements. Megan owns RescueRD LLC, which provides nutrition seminars and coaching for tac