Crockpot Thai Peanut Chicken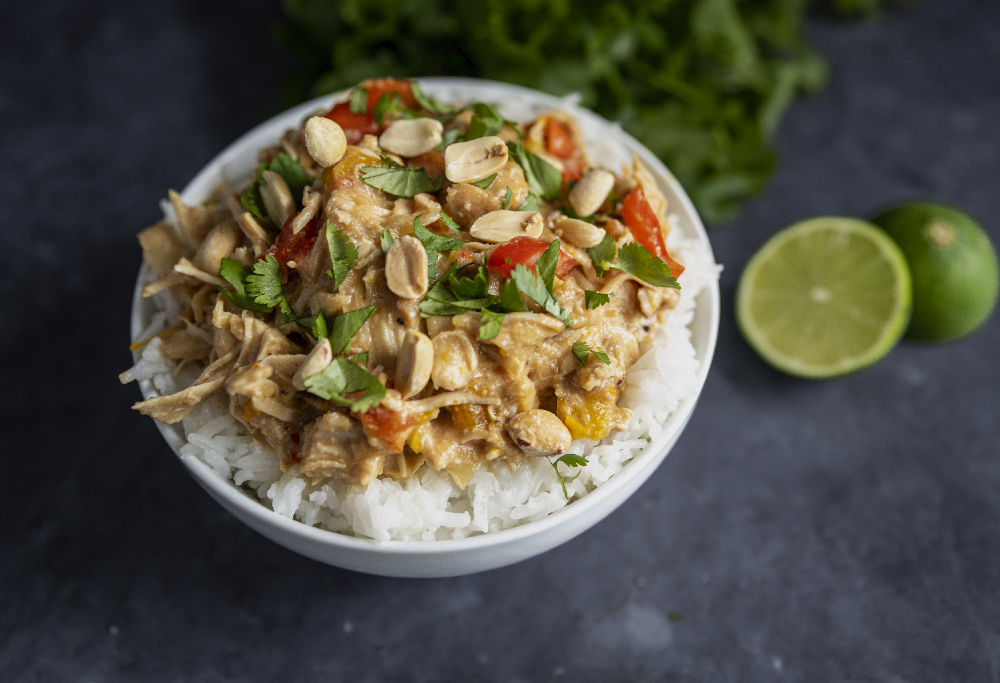 This is a no-fuss, easy Thai dish delivering subtle, sweet peanut flavor. The crockpot will do all the cooking for you—that's what makes this recipe so simple. Serve chicken over brown rice, noodles, or in large lettuce leaves for a lettuce wrap version of the recipe. To make vegetarian, try substituting textured vegetable protein (TVP) for the chicken.
Active Prep Time: 10 minutes
Makes 6 servings
Ingredients
2 red bell peppers, sliced
1 yellow bell pepper, sliced
2 white onions, chopped
3lb chicken breast
¾ cup chunky peanut butter
1 ½ Tbsp. lime juice
¾ cup chicken broth
1/3 cup soy sauce
3 Tbsp. honey
1/3 cup crushed/chopped peanuts
1/3 cup cilantro, chopped (optional)
Choose one: 2 ½ cup uncooked rice, 24oz uncooked rice noodles, 6 large lettuce leaves
Directions
Place peppers and onion at bottom of crock pot. This will act as a "stand" for the chicken so it does not dry out.
Place the chicken on top.
In a bowl, mix together peanut butter, lime juice, chicken broth, soy sauce, and honey. Pour sauce over chicken.
Cook on high for 3-4 hours or for 6 hours on low. When 15 minutes of cooking time remain, shred chicken with two forks. Cover and continue cooking for remainder of time. If choosing rice or noodles as serving option, cook the rice or noodles on stove top in water. If using lettuce leaves, wash under cold water.
Remove chicken from crock pot and serve over brown rice, noodles, or in large lettuce leaves for lettuce wraps.
Top with peanuts and, if desired, cilantro.
Nutrition
1 serving (½ pound of the Thai peanut chicken): 570 calories, 23g carbohydrates, 27g fat, 61g protein, 4g fiber. If paired with rice or noodles, nutrient amounts will change.
Notes
Serving options include: large lettuce leaves, brown rice, or noodles
Lettuce leaves could be romaine, iceberg, green leaf, or butter and are a great low carb option.
If noodles are chosen as the serving option, in the store look for uncooked rice noodles. You may find them in packages labeled "Stir-Fry Rice Noodles".
To cut sodium in this recipe, use low-sodium soy sauce
To make the peanut sauce spicy try adding some red pepper flakes, sriracha, or diced jalapenos
Megan Lautz, MS, RD, CSCS, TSAC-F
Megan is a Registered Dietitian and coach who specializes in firefighter nutrition. Megan's mission is to help firefighters perform better, recover faster, and enjoy long healthy retirements. Megan is the owner of RescueRD LLC, which provides nutrition seminars and coaching for tactical athletes across the country. Check out @Rescue.RD on Facebook and Instagram.