Crockpot Chicken Sandwiches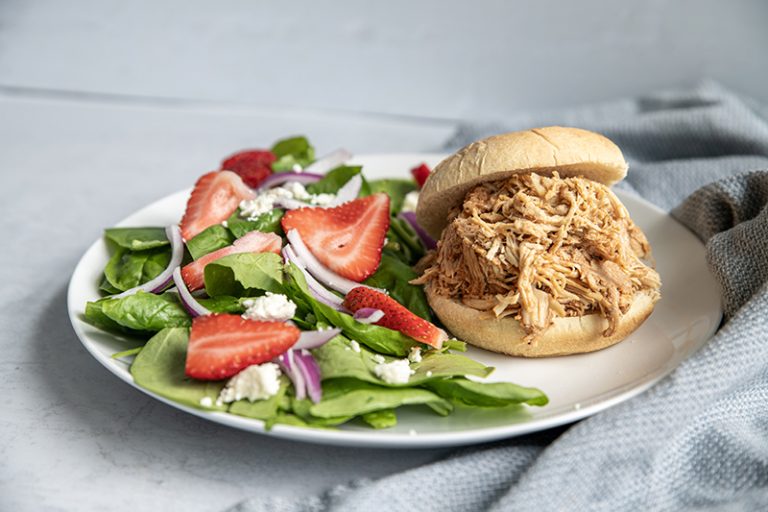 Need a low-maintenance summer dinner? Toss chicken in at the beginning of your shift and shred at dinner without worrying about call interruptions! Pair with the Strawberry Spinach Salad or the Watermelon Feta Salad.
Active Prep Time: 20 minutes
Makes 6-8 servings.
1 pack of 4-5 chicken breasts

1, 16oz container BBQ sauce 

3 Tbsp BBQ seasoning

6-8 whole grain sandwich rolls
Place all ingredients in a crockpot.

Cook on low 8-10 hours or high for 4-6 hours. Cooking on low will result in more tender chicken that is easy to shred.

Add ginger, soy sauce, rice vinegar, and brown sugar to the ground turkey and mix thoroughly. Serve with rice and stir-fried veggies.
6 oz shredded chicken: 180 calories, 34g protein, 2g carbohydrate, 4g fat, 0g fiber
Better BBQ Sauce choices: True Made Foods No Sugar Memphis BBQ, Stubbs Original BBQ Sauce, Primal Kitchen Organic Unsweetened BBQ Sauce

These BBQ sauces have less sugar per serving.

Try Schmidt's 647 rolls, which are high in fiber and 33% less calories than white sandwich rolls.
Megan Lautz, MS, RD, CSCS, TSAC-F
Megan is a Registered Dietitian and coach who specializes in firefighter nutrition. Megan's mission is to help firefighters perform better, recover faster, and enjoy long healthy retirements. Megan is the owner of RescueRD LLC, which provides nutrition seminars and coaching for tactical athletes across the country. Check out @Rescue.RD on Facebook and Instagram.